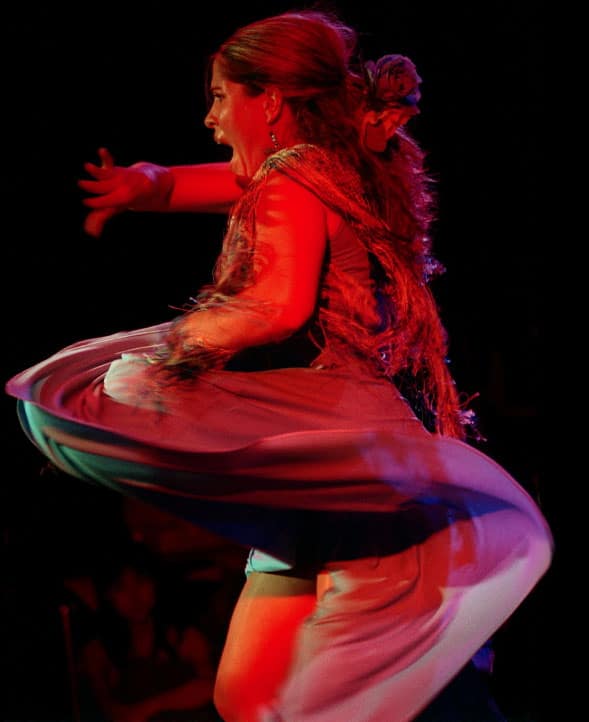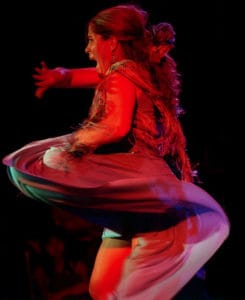 Lola Rueda is a well known personality in the London flamenco scene, which she has been a part of for more than a decade. She was born in Girona into a family of andalucian flamenco traditionalists. At 10 years of age she began training in dance, and by the early 90s she was combining her dancing with a career as an orchestra singer.
In 1995 she moves to London where she still resides, and begins working with various latin orchestras. In the same year she also begins to perform and teach flamenco dance in London and other main cities in the UK.
Having become increasingly recognised in her adopted country as a respected artist, she has performed with great flamenco artists like Gerardo Nunez (Bath Festival, 1999), La Chonchi (Granada, 2000) and Domingo Patricio (Oxford Playhouse, Ennis Chord International Music Festival, 2006).
Lola has performed in Girona, Barcelona, Granada, Paris, Dublin, Montecarlo, Dubai, Bahrain, Muscat, Bombay, New Jersey, Islamabad, Karachi, Lahore, Peshawar, Georgia, Malta, Seychelles, as well as major venues in London, including the Royal Albert Hall, The National Theatre, Ronnie Scotts, Olimpia, La Penya Flamenca de Londres and The Laban Centre.
Lola has also worked for the BBC (BBC Proms Ident), Chanel 4 and ITV, imparting her knowledge and interpretation of Flamenco for various music programmes.
In 2006 Lola meets Ed O'Brien, guitarist in Radiohead and has the opportunity to record a track with him. This experience inspires her to compose her first song, kick-starting her career as a songwriter.
In 2007 she records a track with Sir Christopher Lee for his album 'Revelation', and in 2008 she releases 'Flamenco' as a member of the duo 'Rafael y Lola'.
'Cuba London Lola', Lola Rueda's new album was launched in London on 2nd December 2017. It was inspired by her experiences, and even more so her feelings during her first trip to Cuba in 2014. Taking into account that her work fits well in the Latin / Flamenco / Pop musical genre, it is the most diverse and complete work thus far.
In 2015 and 2016 she was part of the creative team who receive an Arts Council UK grant to create 'Republica', a dance piece mixing flamenco, punk, strip, experimental theatre, history and politics. To be a part of its creation was a "new, intense and strange way of working, but also a spectacular way to learn and truly feel what is to be performed later…"
'Me imagino…', her first album, is a fusion of flamenco and latin songs and rhythms. This musical project was launched on 16th July 2010 in London, and was accompanied by a dance spectacle interpreting the album tracks. This was followed by three further performances in Girona and Barcelona, and were very well received.